Lhean Storm (Philippines)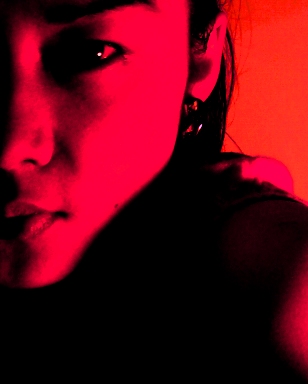 Inspired by music, I paint and draw imagined melodies into paper and canvases. Art is a gift and practicing it regularly offers my gratitude for this gift. When creating, I either find myself in a playground of discoveries or in a place where I retreat to the source. It's therapeutic and I feel fulfilled when a piece of art is complete.
A friend of mine once wrote that when you look at my works, you see a juxtaposition of chaos and harmony: "As if Franz Kafka one day, ate a pound of cotton candy, then decided to put fluorescent ink to paper and draw, draw, draw!"
Psytrance, (a mesmeric subgenre of trance music) has inspired my preferred palette composed of mostly vibrant neon colors. The music's powerful rhythms make my body move and seem to transport my mind in an extreme wellspring of potential outcomes. I love to create around this hypnotic and transcendent energy, inspiring unconscious movements of the pen or the brush. Being one with infinite spaces, reflecting deep desires, or simply understanding myself in a current situation.
I find bliss in unearthing surprising, unexpected patterns when I let my paintings paint themselves. The style is trippy, psychedelic, but the content is very much inspired by reality regardless of the medium that I explore and experiment with.
I'm fascinated with the galaxy, aliens, dreams, cats, the human eye, female silhouettes, and nature. These are common subjects or elements that you'll see in often maze-like synthesis in my works that add either to an answer or a mystery. My art, then invites my audience to an intimate bubble where they see reflections of themselves as if my art has spoken to them alone. This shared meaning-making breathes life into the artwork, making each experience unique.
To constantly keep myself inspired, I listen to music, meditate, and surround myself with artists who practice other forms of art as the diversity complements and fires up my own interests.
About the Artist
Lhean studied art education for two years at the University of the Philippines before shifting to Mass Communications. Years after university, she decided to go back to her passion by pursuing fine arts. The artist has exhibited her works in international group shows at the National Art Gallery and Sokka Gakkai Malaysia Culture Center in Kuala Lumpur; in local museums as Ayala Museum and Museo Orlina as well as in various local art galleries and alternative spaces in the Philippines. She started exploring the world of NFTs in 2021 and since then has gotten involved with projects surrounding web3.
✉ writeme@lheanstorm.com